Travertine Paint
Brand :OPSON
Product origin :Xiamen, China
Delivery time :10 days
Supply capacity :50 tons per day
Travertine coating is maily beige in color,and decorative effcet is solemn.The Travertine coating system is a coating layer imitates the effect of natural travertine decoration.Its coating characteristics and key design points are:
1.Travertine coating can imitate the holes,color point,stain drawing,etc.in travertine,which can perfectly reproduce the travertine effect.
2.The travertine coating system is a thick coating.The overall coating has very good flatness,good adhesion,no cracking of the main material layer,no floating,good water and alkali resistance.The base surface must be made of anti-cracking putty,and the primer layer is of good alkali resistance and sealing performance and can improve interlayer adhesion.
3.The travertine coating is made of special silicon powder.It has very good initial grinding performance and excellent strength afterwards.
4.The travertine coating is of very good weather resistance,and period of artificial aging resistance is 1500h.

Why choose Opson Travertine Coating?
1.Rich in texture, clear stripes, natural, but beyond the natural finished products, bumpy and harmonious;
2.The travertine coating is light in weight, soft in texture, and has good sound and heat insulation, it is an excellent building decoration material;
3.There is no high price for travertine, but there is a charm of travertine;
4.The travertine coating and the real stone complement each other and have a high degree of simulation;
5.Provide the free sample;
6.Port: FOB Xiamen;
7.Lead Time :20-45 days. It depends on item and quantity as well.
Construction process:
Base cleaning → base repair → scraping putty twice → brush primer one time → (do the grid line) →spray rough texture paint one time → sanding→spray and sand fine texture paint twice→ spray colorful paint one time and sand → stain→ spray or roll finishing coat → cleaning, refurbishing.
Hierarchical structure: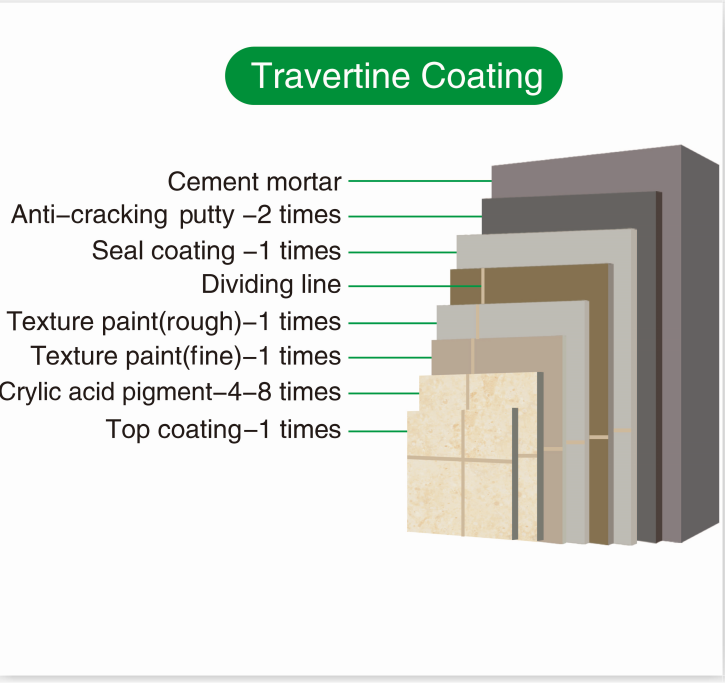 Product ingredient chart:
No.

Layer

Material

Dilution ratio

Consumption Kg/㎡

Application interval

Construction method

1

Substrate

The base layer should be level and clean, and before the construction the wall moisture content should be less than 10%, and the PH value less than 10.

2

Substrate treatment

Crack-resistance Putty

Water according to the prescribed ratio

2-3.2

6 hours

Scraping

3

Primer layer

Silicon-acrylic primer

Not allowed

0.12—0.15

12 hours

Roll painting

4

Middle layer

texture paint (Rough) One time

No water

2-2.5

12 hours

Roll painting

5

Middle layer

texture paint (Fine) one time

No water

1-1.5

12 hours

Roll painting

6

Main coating layer

Main coating

Not allowed

Subject to sample density

12 hours

Roll painting

7

Finishing

Matt Finishing coat

0-5%

0.15-0,18





Our services:
1. Free samples, free samples by color;
2. Free technical guidance;
3. Free 3D renderings;
4. The construction team goes out for labor service;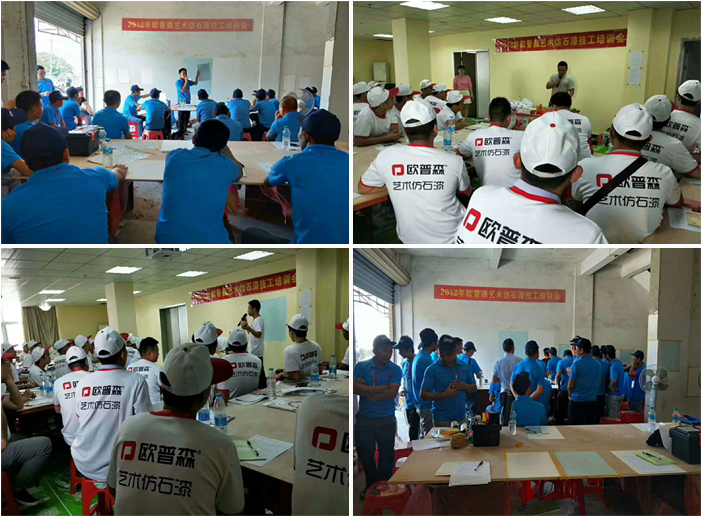 Certificate: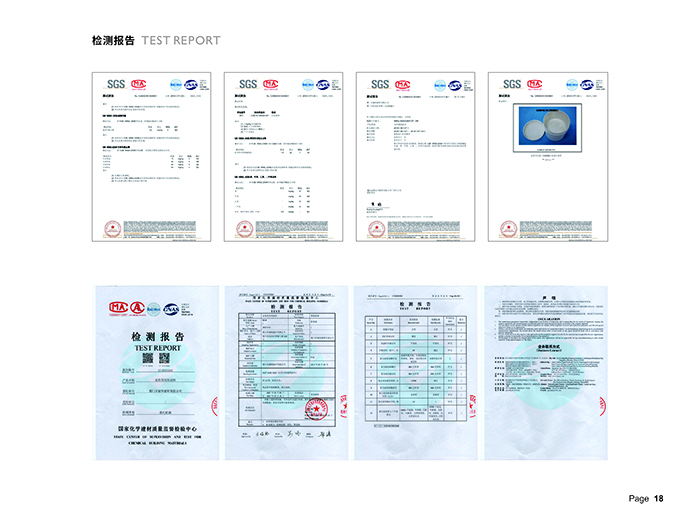 Project case: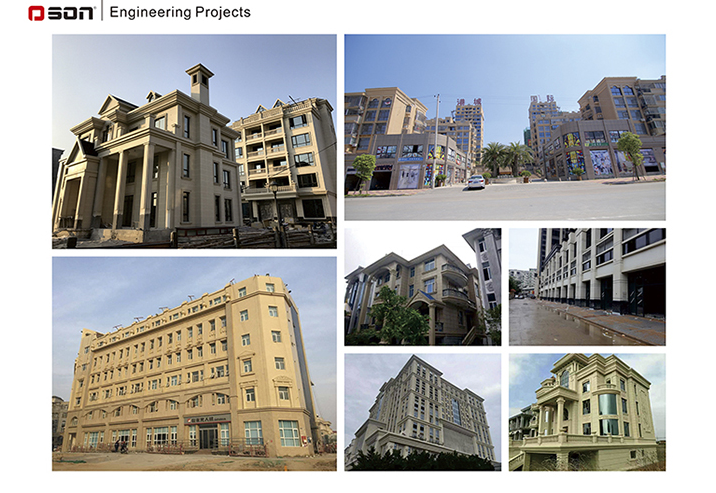 Delivery time: 7 days.
Workshop: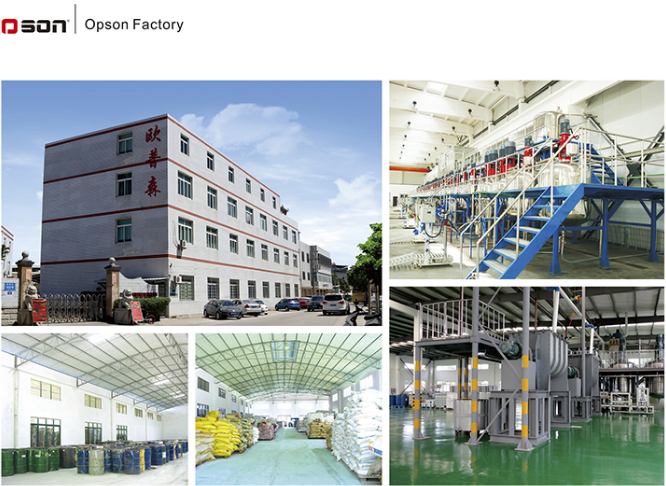 Our Exhibition: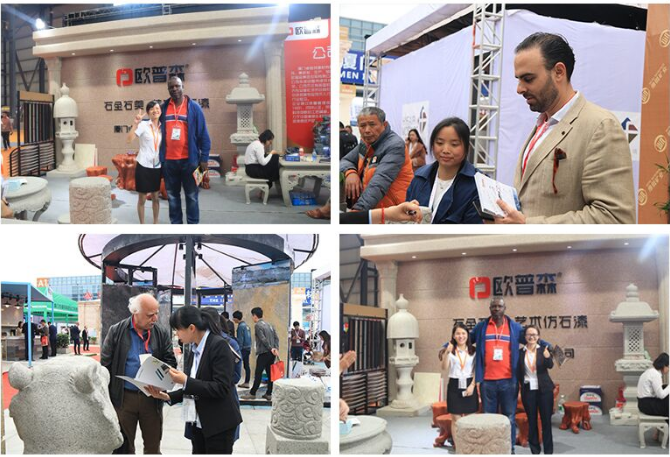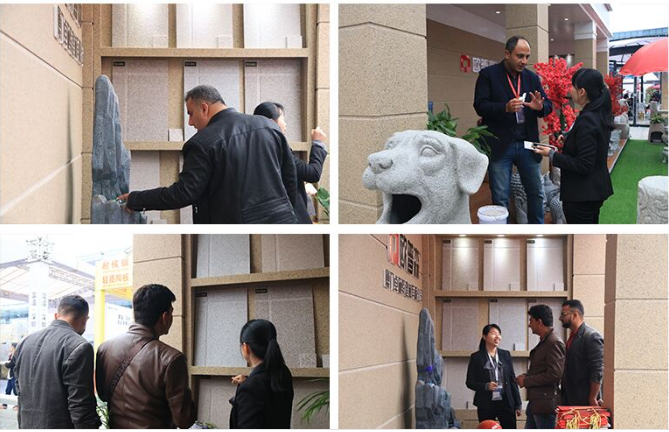 Please feel free to give your inquiry in the form below. We will reply you in 24 hours.